Base 11 was built to prepare students and early-career adults for futures in science, technology, engineering, math, entrepreneurship, and venture capital. When we set out in 2014, we had an initial goal to help accelerate 11,000 students on their pathways to STEM career success by 2021.
Thanks to our amazing leadership team, partners, and funders, we achieved this bold goal in 2020—an entire year ahead of schedule!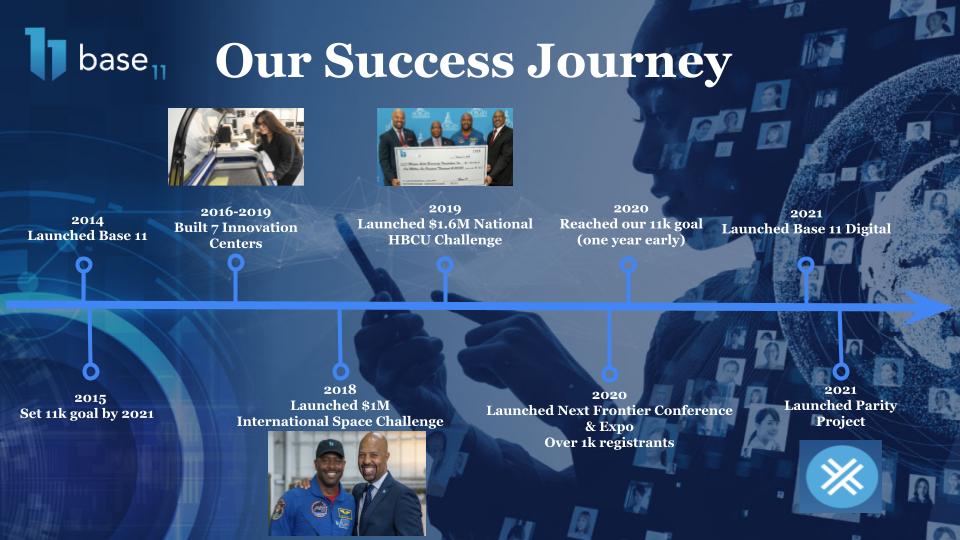 Inspired by our initial success and the continued underrepresentation of women and BIPOC in STEM, we set a new goal to scale by 10x. We launched the Next Frontier Initiative with a mission to accelerate 100,000 students and early career adults towards STEM career success in the next frontier industries of the 21st Century by 2030.
Then, in May of 2020, George Floyd was murdered.
Like most Black American leaders in our country, I was asked the question, "What should we do?"
My response was to work toward a national movement. This horrible incident couldn't be just another moment that would be forgotten in the six months after it was no longer a headline story.
We need to remember—and let that remembering fundamentally change us as people and as a country.
In the footage, we saw Floyd crying out that he could not physically breathe—a tragic sight that none of us will ever forget. And for me, it triggered an awareness that there are far too many areas where members of the Black community cannot breathe. Black men and women are held down, held up, and held back. They face disproportionate barriers that prevent them from rising up to positions of power—and the data proves this story.
While African Americans represent roughly 13.4% of the US population, we are grossly underrepresented in all of the areas that lead to the most significant wealth creation in America—and we are overrepresented in the areas of poverty.
Black Americans currently account for:
9% STEM degrees
5% STEM jobs
5% Physicians
1% Fortune 500 CEOs
8.6% Fortune 500 corporate board members
3% Venture/ Private Equity GP representation
1% Venture Capital funded entrepreneurs
In response, we launched the Parity Project—a national call to action to achieve economic parity for Black America by 2030.
Our bold mission is to achieve a minimum of 13.4% African American representation in:
STEM degrees
STEM jobs
Private equity/VC-funded entrepreneurs
Fortune 500 corporate board seats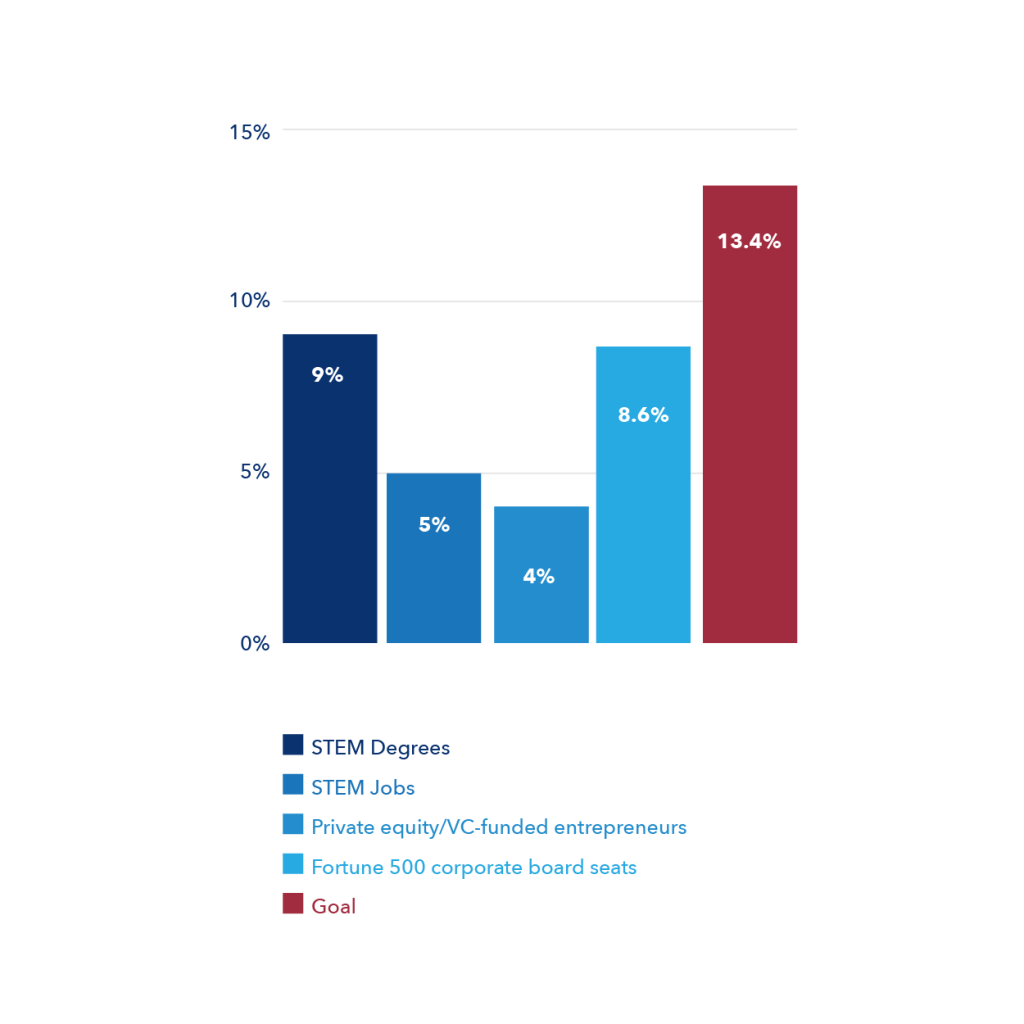 A mission this big cannot be accomplished by any one person or organization—it requires national alignment and partnerships.
I started by reaching out to my fraternity, Sigma Pi Phi, aka The Boulé, which has a 118-year history of working for the empowerment of African Americans, both as individual members and as a collective—and often from behind the scenes.
Thanks to the visionary leadership of Dwayne Murray, who currently serves as the Grand Sire Archon (equivalent to CEO), and Grand Sire Archon-Elect Antoine Garibaldi, the Boulé boldly stepped up to make the Parity Project a flagship initiative across the entire organization here in the US and abroad.
We received early financial support from JP Morgan Chase, The Executive Leadership Council (ELC), and the Boulé Foundation to develop and launch the Boulé Base 11 Fellows Program and the Parity Project Innovation Challenge—both of which are helping us move the needle on our Parity Project goals!
The Parity Project Innovation Challenge (PPIC) is an international competition that invites innovative and disruptive solutions for closing the wealth and health gap and achieving economic parity for Black America.
The results of the first year of the annual competition are in, and we could not be more excited to introduce you to our winners!
Nova Sportsman
The Menstruation Station
As our High School Challenge Winner, Nova built a solution to period poverty, which affects the economic well-being of Black people in America, especially teenage Black girls. As she shared in her presentation, 20% of Black women in America have unstable access to period products—and one in five low-income women report missing school, work, or events due to lack of access.
Learn more about Nova's project >>
Kiante Bush
Meet the "Rich Paul" of Startup Investing
Kiante, an early-career adult, noted that according to Crunchbase News, "Black startup entrepreneurs still received only a tiny fraction—1.2%—of the record $147 billion in venture capital invested in U.S. startups." He has built an accelerator that has already provided $1,500 and mentors to five Black-led startups.
Learn more about Kiante's project >>
Jasmine Bacchus
Black Fashion Lab for Entrepreneurs and Executives
Jasmine, a college student, shared that up-and-coming Black designers need to have a seat at the table in the "metaverse" being created by luxury brands, tech companies, and game developers. In order to ensure an inclusive space for all, she wants to create a space for Black fashion designers to receive funding and explore integrating AR/VR into their businesses.
Learn more about Jasmine's project >>
Chanda Lowrance
MicroHaven uses Blockchain to Solve Homelessness
In her presentation, Chanda shared that 39% of the homeless population in America is Black. MicroHaven is a permanent supportive housing option that allows investors to purchase a fraction of the property and provides chronically homeless individuals with affordable, permanent residences and services.
Learn more about Chanda's project >>
Through the challenge, these four winners received Access, Awareness, and Belief from our team of mentors and partners. As part of their prize, they were flown to New York City to meet with leaders at JP Morgan Chase and then traveled to Washington DC where they had the incredible opportunity to share their pitches at the White House.
Back row (left to right): GSA Murray, Archon Doug Bender, President, Michael Hyter, Gabrielle Harris, Archon Paul Griffin, Rodrick D Hall, Landon Taylor. First row (left to right): President Teniel Jones, Nova Sportsman, Kiante Bush, Jasmine Bacchus, Chanda Lowrance, Sezi Fleming
Later this month, they will conclude their tour by traveling to the Bahamas for the Grand Boulé.
We are continuing to connect these amazing Parity Project innovators to funding, partners, and mentors. If you would like to get involved—or know someone who would be a great fit—please reach out!
In addition, if you or someone you know would be a great candidate for the Boulé Base 11 Fellows Program or our next Parity Project Innovation Challenge, be sure to sign up on Base 11 Digital now. We have big goals, but we can only accomplish them together. Join our mission now and help us achieve economic parity for Black America by 2030.